I had the greatest steak of my life here. That's no exaggeration! I've been to several high end steak houses, but none can compare to the Wagyu beef these guys serve. But it doesn't stop there. Literally everything I had here is amazing. The bread (3 varieties) they serve at the start tastes fresh baked and comes with a platter of creamy, spreadable butter (bonus points because it doesn't feel like it was just pulled from the freezer), large grain salt, and oil and vinegar with herbs. It's amazing.
Remember that steak I mentioned? Wagyu hanger steak cooked medium well. Unquestionably the best steak I've ever had in my life. Simply without comparison! It was cooked to perfection and wasn't slathered in any sauces or overly spiced. Just a touch of salt and pepper and maybe love and happiness. It. Was. Amazing!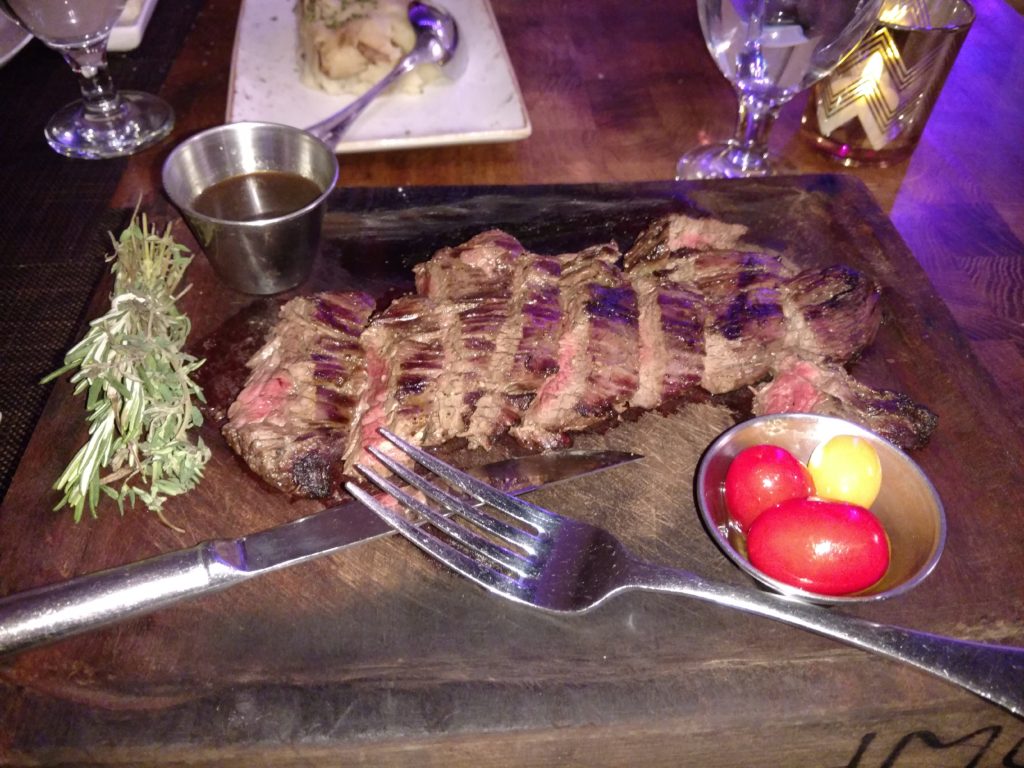 On to dessert! We were here for my mom's birthday and they gave us an order of their donuts with a big sparkler in it. The donuts were sugar coated and filled with dulce de leche and came with a custard-like dipping sauce. Once again, amazing. I also got an order of their s'mores. These were no ordinary s'mores, however! It was a graham cracker, upon which a layer 2 inches thick of chocolate ganache was placed, topped with marshmallows that were seared up top. Oh, and there was a scoop of vanilla gelato with it. I would have taken a picture, but I was too busy shoving my face into it. And guess what?
It was AMAZING!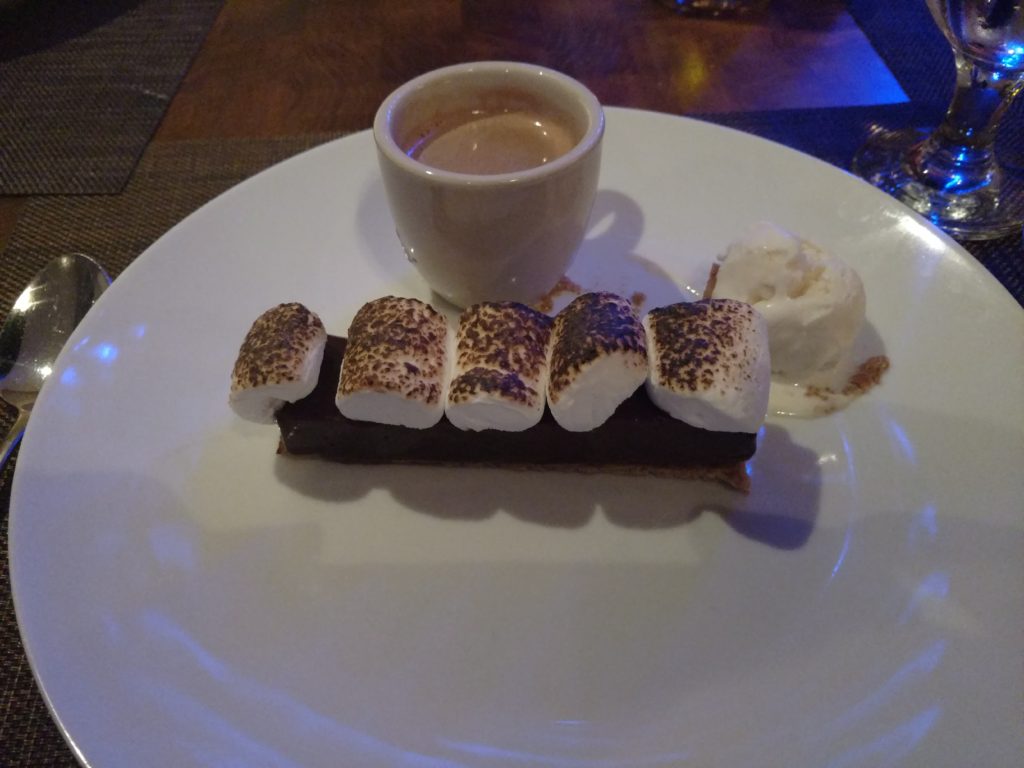 We had a conversation with someone who I believe might be a manager or someone of that nature named Sean. He was very welcoming and along with our waiter Andrew, made us feel right at home, as if we'd been coming here for years!
Excellent food, outstanding service, and a wonderful atmosphere, along with prices that are definitely fair for what you get means that I'll be coming here as often as I can. In fact, I wrote this review while waiting for my entrée during my second visit! On this evening, I had a delightful duck salad, pictured here: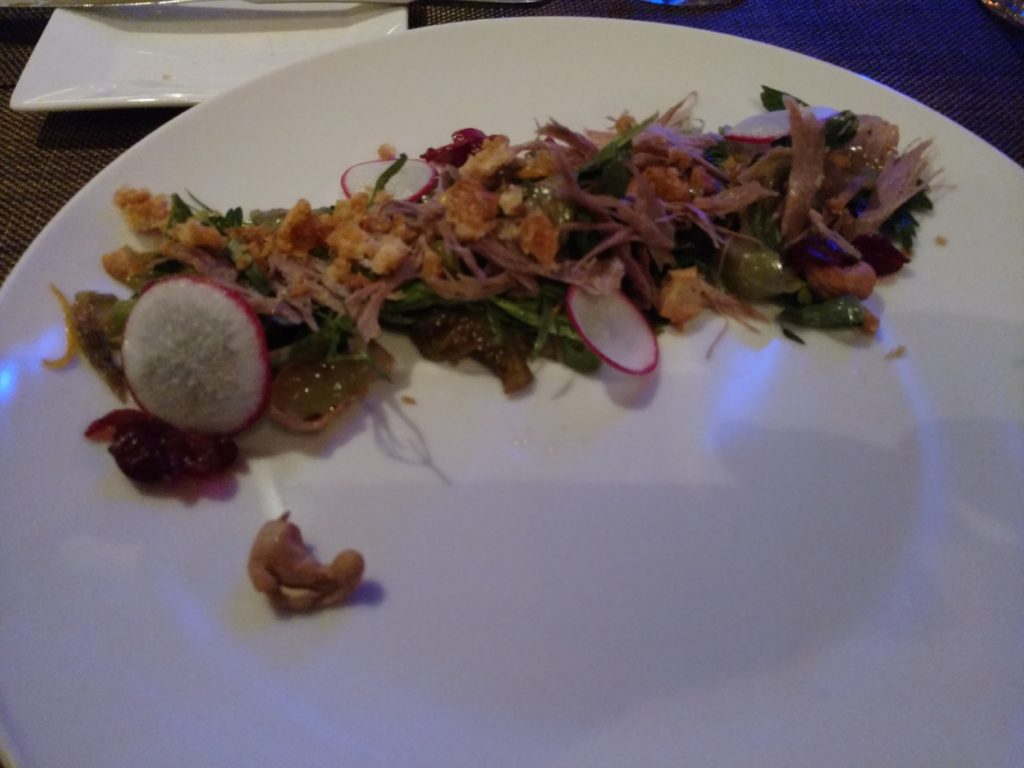 This had a great blend of sweet and savory ingredients. There was the comfit duck of course, along with some dried berries, a sweet vinaigrette dressing, cashews, and mixed greens. I'm not a big salad guy, but I was focused enough on eating every last bit of this to the exclusion of all else, including not realizing when someone was talking to me! I followed up the salad with another Wagyu beef steak. This time, I chose the 8 ounce skirt steak, as it was the only Wagyu cut available on the prix fixe menu we ordered from: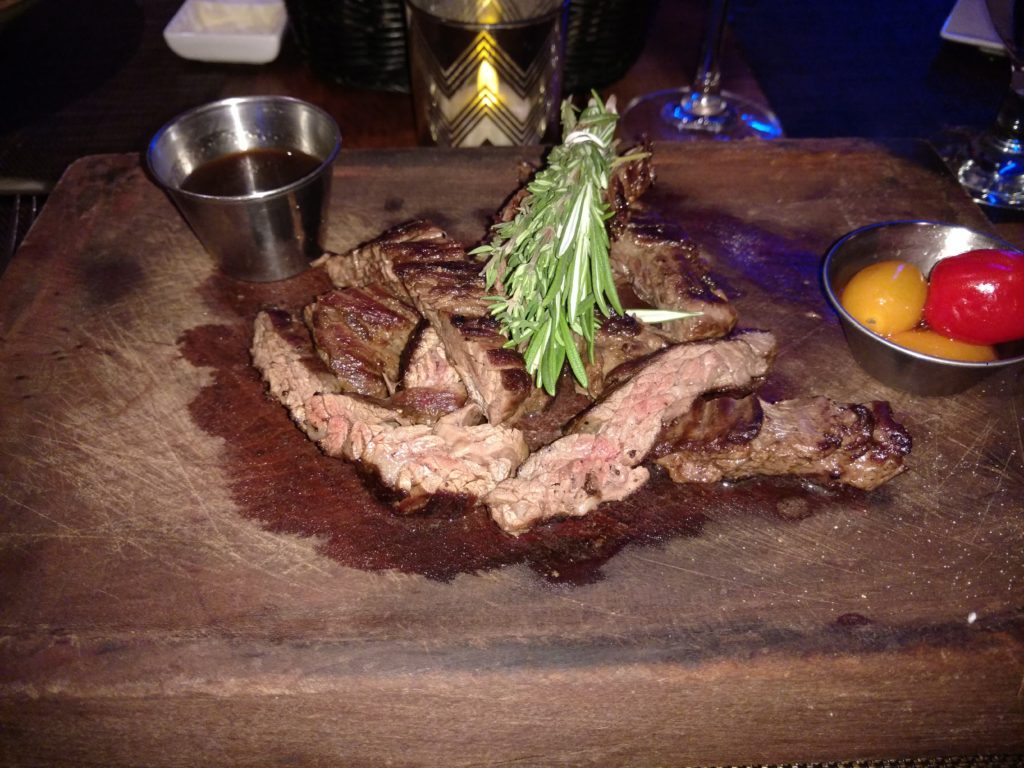 That prix fixe menu is a hell of a deal, by the way. $25 for an appetizer, a glass of wine, an entrée with a side, and a desert. And unlike a lot of prix fixe menus I've seen, they gave you a rather nice set of choices for each category. That said, let's get back to the steak. There's actually surprisingly little to say about it. Its very similar to its big brother, the 16 ounce hanger steak. That means its absurdly good and I wished there was still more on my plate when I finished what I had. That said, I found that the hanger steak was a better cut. The skirt was still excellent, just not quite as good as the hanger.
I finished off my second meal with some more s'mores! The picture of the desert above is actually the picture from the second meal. The first time, me and my family tore into it with a quickness, so I only captured a small segment of it. Nothing much to say here, other than it was as good as I remembered.
I cannot recommend IMC enough. Its by far the best steak house I've ever been to and is among my top 3 favorite restaurants of any type. You'd expect a place like this to be expensive, and you'd be right, however it's not as expensive as its competition. The prices are very reasonable, considering the superlative quality. I've had steaks that were double the price and not even half as good. There's just no comparison to any place else I've been. Do what you need to so that you can eat here at least once! Mortgage your house, sell your kids, steal your neighbor's buried gold; do whatever it takes! Just go!
Vital Stats:
Name: IMC
Address: 279 Main Street
Huntington, NY 11743
Phone: (631) 824 – 6222
Website: http://www.imcrestaurant.com/
Danger Rating: The steak is so good, it will corrupt vegans.